Headaches and migraines are among the most common ailments humans suffer, which means that there are a lot of products on the market to help combat them.
I'm going to be looking specifically at pillows that help with headaches and migraines. It's difficult to go through every product and pick the perfect one. So I'm going to share my research as to which pillows are the best for helping combat headaches and migraines.
Headaches and migraines happen for all sorts of reasons, but the commonality of symptoms leads to similar products that can help relieve the pain.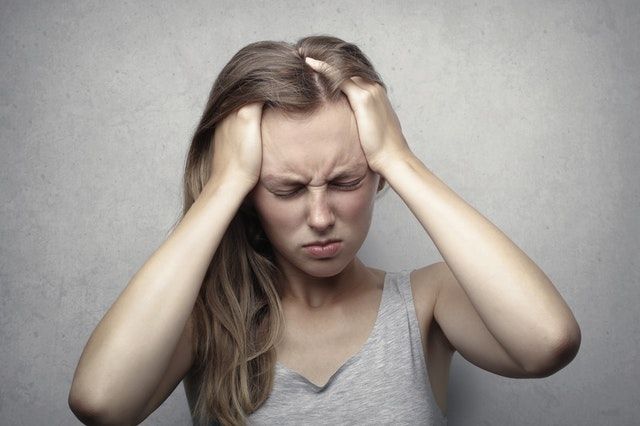 Best Pillow Reviews
In my research into the best pillows for headaches and migraines, I compiled a list of the top recommended pillows in 7 different categories. These categories are shredded memory foam, solid memory foam, polyester microfiber, buckwheat, cooling, water, and elastic polymer pillows.
For each pillow, I will give you the pros and cons, as well as any additional information I could find about each pillow. The pillow recommendations are listed in no particular order.
Pros:
High Quality
Environmentally Friendly
Medium Firm
Fully Adjustable
Traditional Feeling Loft
Completely Machine Washable and Dryable
Suitable for Back and Side Sleepers
100 Night Guarantee
Manufacturer 5 Year Warranty
Cons:
Can Become Lumpy
Too Soft for Some
A Coop Home Goods pillow is the highest recommended pillow out of all the shredded memory foam versions of headache and migraine pillows listed on Amazon.
Shredded memory foam pillows are advantageous because they are softer than normal memory foam pillows. The loft reminds people of a traditional polyester pillow with more benefits.
Coop Home Goods pillows are of the finest quality, and this is evident in the raving reviews from customers. They are of medium firmness and are adjustable. You can adjust the loft of the pillow by adding or removing some of the shredded foam fillings.
These pillows are recommended for side and back sleepers equally, but most reviewers like to use them while lying on their sides.
According to the manufacturer, the pillows are environmentally friendly. The Coop Home Goods pillows use all new foam in their products, no leftover fillers. The pillows have been tested and certified by environmental experts CertiPUR-US and Greenguard Gold.
This pillow is completely washable, but reviewers share mixed opinions on this issue. Some say that the pillow is loftier and more comfortable than ever after a wash, but others say that the pillows become lumpy and uncomfortable after washing.
Reviewers also say that the pillow can become lumpy after sleeping on them for a few months. This lumpiness is due to body heat melting the shredded foam together into hard lumps.
Coop Home Goods Original pillows offer a 100-night trial where you can try the pillow for 100 nights. If you decide that it isn't for you, you can return it with no questions asked. If you do decide to keep it, there is a 5-year warranty against defects. The manufacturer offers both.

Pros:
Available in 3 Sizes
Firm
Machine Washable and Dryable Removable Cover
Best for Back and Side Sleepers
5-Year Limited Manufacturer Warranty
Cons:
Not Environmentally Friendly
Non-Washable
Low Breathability – Can Become Hot
Off-Gassing Causes Chemical Odor
The TempurPedic Ergo Neck pillow is a solid memory foam product. It has contours on the top and bottom edges to get you the perfect sleep position, whether on your back or your side.
While this pillow offers several cons, it is the most well-rated item I've found for those who need the firmness of the solid memory foam.
TempurPedic pillows are very firm and come in three different sizes for each sleeper to get the pillow with the best fit for them. The sizes are small, medium, and large. The difference in the dimensions is the height of each contoured end. Before purchasing, measure the space between your neck and your shoulder. You can find the size chart on the Amazon's website.
This pillow is best for side sleepers and back sleepers.. Though the sizes recommended, for both back and side sleepers, vary, so be sure to look at the size chart before you buy.
The TempurPedic pillow is not washable, but the included cover is removable and washable. Unfortunately, with use, the pillow may turn yellow due to sweat and other body oils, and there is no way to wash. Even though there is a warranty, you may find yourself having to replace it sooner than the warranty period due to this fact.
The pillow manufacturer speaks in high regard about the pillow because NASA invented the materials, but they are neither environmentally friendly nor pleasant to smell. The reason for the smell is called off-gassing and is the odor released by the memory foam material. Reviewers also complain about how hot they can get because they don't circulate air well.
I have personal experience with this pillow. Even though the pillows do tend to smell and turn yellow with use, they are very comfortable and cradle your head in just the right way. The gassy smell dissipates after a few days and becomes a great pillow.
As I mentioned, there is a 5-year limited manufacturer's warranty on all TempurPedic pillows.
Pros:
Soft
Machine Washable and Dryable Outer Layer
Supportive Inner Layer
Plumps up with a good fluffing
Suitable for back and side sleepers
Cons:
Too soft for some
Not enough support for some
Expensive
No guarantee or warranty
The Casper Sleep Pillow has a unique pillow within a pillow design. It is closer to what you would get in a traditional pillow because the outer layer is polyester microfiber filling.
The Casper Sleep Pillow is the best-reviewed pillow of all polyester microfiber pillows. As a rule, polyester microfiber fill pillows are not very supportive, and they lose their buoyancy after a few months of use.
Reviewers show mixed feelings about this pillow. Some say that it is incredibly soft and supportive, and they have gotten the best sleep they have ever gotten with this pillow. Though, others say that it is too soft and their head sinks to the bottom of it, offering no support.
The outer layer of this pillow is entirely machine washable and dryable. Some reviewers loved it after its first wash and recommend that you wash your pillow as soon as it comes. However, others say not to wash it at all because it reduces the number of times a fluff will work.
The manufacturer recommends the Casper Sleep Pillow for back and side sleepers. Reviewers seem to agree with this. There is a good mix of reviews from both side and back sleepers that confirm this claim.
One of the biggest complaints I found while researching is that this pillow is overpriced for the quality. Even those who love the pillow have complained about the high price point.
I was not able to find any mention of a warranty or guarantee on both the Amazon website and the manufacturer's website. If a guarantee is essential to you, you may want to find a different pillow.
Pros:
Firm
Environmentally Friendly
Completely biodegradable
Breathability keeps you cool
Suitable for back and side sleepers
Pleasant odor (a bit nutty)
Fully Adjustable
60-night money-back guarantee
Cons:
Too firm
Heavy
Loud
Expensive
Not washable or dryable
In all the buckwheat pillows researched, this one is the one that I kept seeing over and over. It comes highly recommended, and customers say that it is like having a custom-made pillow.
The Hullo Buckwheat pillow is very firm and is excellent for back and side sleepers. The pillow is fully adjustable by adding or removing hulls from the twill cover. The cover is machine washable and dryable.
One feature of the Hullo pillow is that it is incredibly dense. Some reviewers love this because it doesn't move on them through the night. Other reviewers don't like the fact that it doesn't move easily. Not only is the pillow dense, but it is also loud when you do move it. Reviewers say that the pillow makes a bit of noise through a typical night's sleep, but not enough to wake their significant other.
The Hullo pillow is eco-friendly, and the buckwheat hulls that make up the pillow are entirely biodegradable. There is no chemical odor, and some reviewers say that the pillow has a slightly nutty smell that is quite pleasant.
Hullo stays cool and has a ton of breathability, which means that the air circulates through the pillow efficiently, which works, in turn, to keep you cooler. This is a highly sought-after quality for those who live with headaches and migraines.
Many reviewers say that it takes a couple of nights to get used to the firmness of this pillow. It molds to your head, which a lot of people love. Others say that you can't sleep directly on this pillow, but it works great underneath a softer traditional pillow.
The manufacturer offers 60-night money-back guarantee.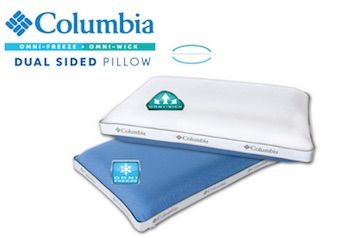 Pros:
Medium Firmness
Breathable
Great for side, back, and stomach sleepers
Cons:
Not environmentally friendly
Chemical odor
Cooling doesn't last all night
No guarantee or warranty
Not washable or dryable
The Columbia cooling pillow is the highest rated of all the cooling pillows I researched. This pillow uses memory foam technology, and it has unique cooling properties on one side.
This pillow is of medium firmness, but some reviewers say that it is too soft. Other reviewers complain that the pillow starts cool, though not extreme as the title suggests, but gradually warms up through the night until it doesn't offer any cooling at all. One reviewer loves the pillow but states that it isn't as efficient as it was after a few weeks.
The description of the pillow states that it is breathable due to Omni-Wicking technology that is supposed to allow the sweat to evaporate. However, I found no reviews that mention this technology, so I can't offer any advice on that.
The Columbia cooling pillow is excellent for side, back, and stomach sleepers. This pillow is one of only two pillows I found that works for all three types of sleepers.
This pillow is not environmentally friendly and can have a gassy odor, as is found with a lot of memory foam products.
This pillow is another example of a product with no found warranty or guarantee. I could not find a manufacturer's website to check either.
Pros:
A respected brand in the medical community
Good support
Firm
Cushioning effect
Fully adjustable
Suitable for back, side, and stomach sleepers
Completely machine washable and dryable outer shell
30-night trial and 3-year manufacturer warranty against defects
Cons:
Can be too firm
Heavy
Water bladder can leak
This water pillow is in high regard in the medical community for its versatility and comfort. John Hopkins University has rated it especially well after repeated testing.
The water provides a cushion for your head and neck, and this relates well to good posture while you sleep, thus, fewer migraines and headaches.
The Mediflow water pillow is completely adjustable by adding or removing the amount of water you put in it. The pillow molds to your head and is very hard. This molding of the head puts it in the same general area as the Hullo pillow regarding firmness. Reviewers also say that the Mediflow pillow is like having a custom-made pillow.
The shell of the pillow is machine washable and dryable. The bladder inside that holds the water can be spot cleaned with a wet cloth. Let it dry completely before putting the shell back on.
The Mediflow pillow is the second of the pillows I found to be suitable for all types of sleepers. Back and side sleepers will likely want it to be a bit fuller than a stomach sleeper, though.
This article is owned by Sleeping Report and was first published on December 21, 2019
The only problem that I found with the Mediflow pillow is that the water holding bladder can leak. It is rare, but it can happen. However, there is a 3-year manufacturer's warranty to cover defects in the pillow, including the bladder.
This pillow also boasts a 30-day trial. You can sleep on it for 30 days, and if it isn't working for you, you can return it to the manufacturer for a full refund.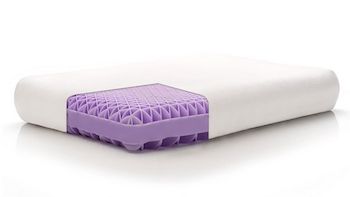 Pros:
Firm
Grid pattern for support
Suitable for back and side sleepers
100-night trial
Cons:
Very thin
Rips and breaks down easily
Strong chemical odor
Expensive
The Purple Pillow uses an elastic polymer blend for its products. This pillow is made by the same manufacturer as the Purple mattress and is the only pillow of this type I could find.
The reviews are not spectacular, but as it is the only one of this type, I decided to include it for reference.
The Purple Pillow has a very firm grid pattern. Reviewers complain about the thickness of the pillow. They say that it is not thick enough to get a good night's sleep.
The description says it is excellent for back and side sleepers, but stomach sleepers may want to try something else.
Reviewers seem to be on the same page as far as the construction of the pillow goes. It rips easily and breaks down with continuous use.
Reviewers also complain that there is a strong odor that takes a long time to air out. One reviewer compared it to the smell of balloons.
The price of this pillow is also relatively high compared to some of the other pillows reviewed in this article.
There is a 100-night trial offered by the manufacturer, though, so if you get it and aren't pleased with it for any reason, they will refund your money.
Can a Bad Pillow Give You Headaches and Migraines?
A lousy pillow can cause headaches and migraines for several reasons. The most common reason is that a poor pillow can cause poor sleep posture. If you don't sleep with your head at the proper angle to your neck and spine, headaches can occur.
Another reason why a bad pillow can cause a headache is that it places too much stress on your neck. If your pillow is too thin, it can cause your neck to rest at a lower angle to the rest of your body. If you have a pillow that is too thick, you force your neck into an upward position.
If you have a lumpy pillow, it can cause excessive pulling of the scalp, which can also create a headache. Pulling your scalp in different directions can create tension and thus turn into a tension headache.
Why Do I Keep Waking up with Headaches or Migraines?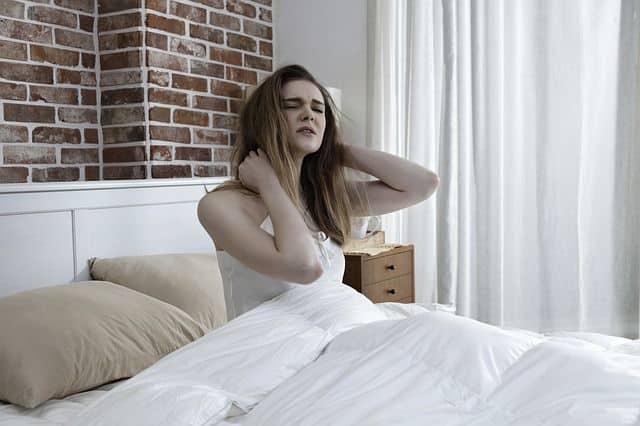 The reasons for waking up with a headache or a migraine are varied, but most of the time it relates to how well you slept the night before.
Many sleep disorders can cause headaches. Sleep apnea is a condition where you stop breathing at different intervals during the night. The interrupted breathing means that you can't get enough oxygen to the brain to keep it healthy, which can trigger a headache or migraine. For a lot of people, this is the first clue that they suffer from sleep apnea.
Bruxism or teeth grinding is another sleep disorder that can cause headaches. The prolonged clenching of the jaws can cause a headache in and of itself. However, teeth are also vulnerable. Damage can occur where the nerves are possibly exposed, thus leading to a headache.
Depression is a substantial factor in nighttime headaches. The reason is that people who suffer from depression also tend to sleep too much. It seems silly that one could get a headache from too much sleep. But the sleep is not restful, which makes it just as harmful as not enough sleep.
If you aren't getting enough sleep at night, this can also lead to headaches. This phenomenon is especially true if you worry about not sleeping, which can lead to anxiety and stress and then lead to a tension headache.
This article is owned by Sleeping Report and was first published on December 21, 2019
A lot of medical conditions can also lead to headaches and migraines. Headaches are a common symptom of high blood pressure. It may be beneficial to schedule an appointment with your family doctor to have your blood pressure checked regularly. If you already suffer from hypertension, be sure to follow your doctor's plan for your health, including taking any medications he or she prescribes.
Dehydration is a strange condition to tie in with headaches, but your body's homeostasis is entirely dependent on having the right amount of fluid in your system. If you are dehydrated, there is not enough water in your blood to keep the cells happy. When this happens, headaches can occur. Experts suggest drinking at least 8-10 cups of water a day to combat dehydration.
Lastly, you want to sleep in the proper alignment. When you are lying down, you want your body to be in the same alignment that it was in when you were standing up. If you need an extra pillow between your knees, or a small bolster under the small of your back to pair with your head pillow, go ahead and use them. Practicing good sleep posture is going to help more than anything else in the combat of headaches and migraines.
How Should You Sleep to Relieve a Headache or Migraines?
Practicing proper sleep hygiene is the best way to help relieve headaches and migraines. Try these tips to see if they help you.
Go to bed at the same time every night and get up at the same time in the morning. Establishing a good routine is paramount to a good night's sleep. For most adults, specialists recommend 7 to 8 hours of sleep at night. This number increases the younger you are and decreases the older you get, but as a general rule of thumb, 7 to 8 hours is ideal.
Avoid daytime naps. An occasional nap is not a bad thing. But when it becomes a habit, it can then become part of your sleep routine and can lead to a problem with your nighttime sleep.
Avoid caffeine after noon. Caffeine works as a stimulant and can keep you awake. You should stay away from soda, coffee, tea, chocolate, or any other substance that contains caffeine for several hours before bed. It is suggested by experts to cut off caffeine after noon.
Avoid alcoholic beverages, drugs, or sleep medications before bed. These substances work as depressants and can cause you to sleep deeper than you should. Your body then misses out on the natural circadian rhythm of the sleep cycle while you are under the influence. They can also cause you to snore, which disrupts the sleep cycle.
Keep electronics out of the bedroom. The blue light emitted from electronics such as phones, tablets, and e-readers cause our bodies to react in a way that keeps us from getting a good night's sleep. If possible, you should turn off all electronics at least 2 hours before you go to bed, which includes televisions and computer screens.
Sleep in a cool room. You want to be cool but not too cold. When you are too cold, your body tenses up and shivers, which can lead to headaches for you. An excellent nighttime temperature is approximately 68 degrees F.
Never sleep with hair accessories. If you wear your hair in a ponytail or tight clips, this can cause tension headaches, and this is especially true if you wear them while you sleep. As discussed earlier, the wrong pillow can cause stress to your scalp. The same happens when you sleep with your hair tied back by curlers, hair ties, clips, or barrettes.
Lastly, if you can't sleep, get up. The longer you lay in bed awake, the more anxiety and stress it can cause, so if you need to, go ahead and get up until you are sleepy. The extra pressure can cause headaches and migraines.
Final Thoughts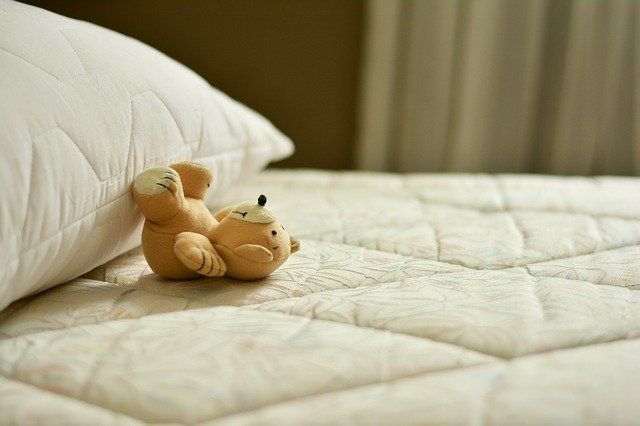 All the pillows reviewed in this article claim to hold your head in the perfect alignment for a good night's sleep. The alignment is what you need to concentrate on when you purchase a pillow. The proper alignment of your spine and neck are going to be the most significant factor in relieving your headaches and migraines.
SleepingReport.com copyright article was updated on ..
As always, you should choose the pillow that is the most comfortable for you. The best piece of advice I found in my research was to give a pillow more than one night. A lot of the pillows offer trial periods. I would suggest that you use the time to get used to the pillow and give it a real shot before you toss it aside.